Why Keyword Research Is Still Play Vital Role in SEO?
by Shweta Patel
---
---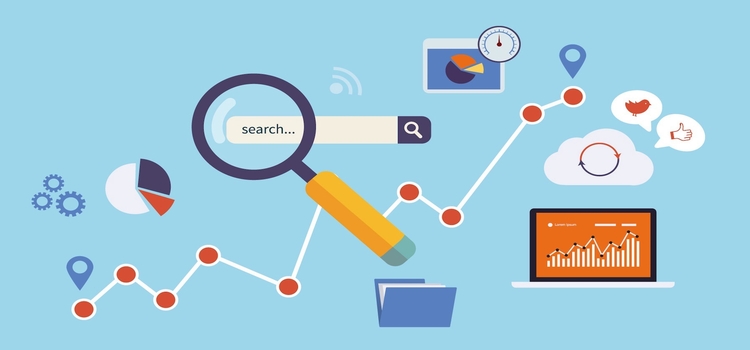 ---
There are plenty of articles out there highlighting the importance of creating content for users, not search engines.
This advice isn't wrong, but it only tells half the story.
Here's why:
If your content doesn't match any search terms that real people use, you won't get any traffic from search engines.
And while publishing a keyword stuffed article isn't a good idea, not taking the user's search behavior into consideration isn't a good plan either.
So why do keywords really matter?
Being relevant to the user's search intent means being in the top results
When Google ranks websites in the search results, it uses the simple logic: best answers come first.
As a result, it places the websites with the content that is most relevant to a particular search query to the top of the SERPs (Search Engine Results Pages). That's the reason why Google has started working on the Knowledge graphs.
In a nutshell, by building a massive database, Google wants to better understand how various search terms are related to one another to show users the most relevant sites.
For instance, a keyword 'Venus' might be related not only to a planet in the Solar system, but also to the Roman goddess of love. However, currently Google is showing the websites that are related to the planet first, which is likely based on the frequency of the similar search queries.
According to the Ubersuggest, the majority of the search queries containing the word 'Venus' are related to the planet, and not the mythology. Thus, the traffic generated by the planet-related terms dramatically exceeds the traffic from the mythology-related terms.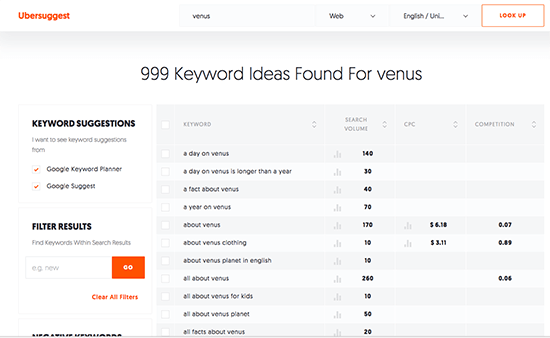 This example demonstrates why you need to do keyword research before creating content: analyzing the websites that are currently appearing in Google for your targeted search terms helps you better understand your user's search intent.
Shifting from a 100% match to broader topics makes your content more relevant to the user's search intent
The old-school approach to SEO required using an exact keyword match to make the content rank for a corresponding search query.
But after the Google's Hummingbird update in 2013 and the launch of the RankBrain machine learning system in 2015, the context and the semantic meaning of a search query came into the limelight (as opposed to a particular word in the keyword phrase).
The new ranking system gave rise to a new approach in SEO: instead of including particular keywords, content is supposed to be focusing on topics and search context, describing it exhaustively and in detail.
Of course, search intent has to be considered as well because some queries simply don't require an exhaustive article – they require short answers.
To see the difference between these two approaches, take a look at the following list of keywords.
Let's say, there is a website that wants to rank for:
Old photo cameras

Vintage cameras

Antique camera

Where to buy a vintage camera

Buy old camera parts

How to fix an old camera

Vintage camera parts

How to choose an old camera

Vintage photo camera on sale

Most popular old camera
With the old-school approach, you'd be creating several pieces of content containing each of the targeted keywords.
The problem with this approach is that such content would unlikely be considered comprehensive by Google.
With the new approach, you need to look 'behind the words' to analyze the search intentions of the user googling for a specific keyword.
For example, 'old photo cameras', 'vintage cameras' and 'antique camera' might be searched for by a person who is generally interested in old-school photography equipment. In this case, you may need a wiki-like page listing the most popular vintage photo cameras with their descriptions.
Similarly, 'buy old camera parts', 'how to fix an old camera' and 'vintage camera parts' are probably searched by a person who is in possession of an old camera that requires fixing.
Here, a comprehensive guide about the components of the vintage cameras with advice on how to fix them would be a match for all the three search queries.
To sum up this section, satisfying the user's search intent does not necessarily mean including an exact keyword to your content. Rather, you should focus on the semantic field, or a general topic, to which this keyword belongs, because this is what the users are actually interested in.
To find the topics that will generate the most traffic to your website, create semantic groups from your most popular keywords and create in-depth content around it.
Skipping keyword research will result in zero organic traffic
Now that we've talked about the shift to broader topics and semantic groups, it's important to mention the risks of skipping the keyword research process.
First of all, without conducting keyword research, you risk targeting keywords and search topics that are of little to zero interest to users.
Keywords with no search volume typically generate no organic traffic, regardless of how comprehensive and valuable your content is.
Another risk is investing in content creation for keywords and topics that are simply too competitive.
This could include head terms such as "SEO" or "Fishing", to slightly more long-tail keywords that equally as competitive due to the revenue potential (think buying keywords) such as "buy digital slr."
The SERPs for those keywords are usually occupied by extremely authoritative domains, leaving little space for a newcomer.
To avoid this risk, you need to check which search queries are currently searched for the most and get a feel for how difficult they will be to rank for. Google Keyword Planner is a great free tool for keyword research, as it allows you to see not only the popularity of a particular word, but it also offers some indication as to how difficult it may be to rank for it.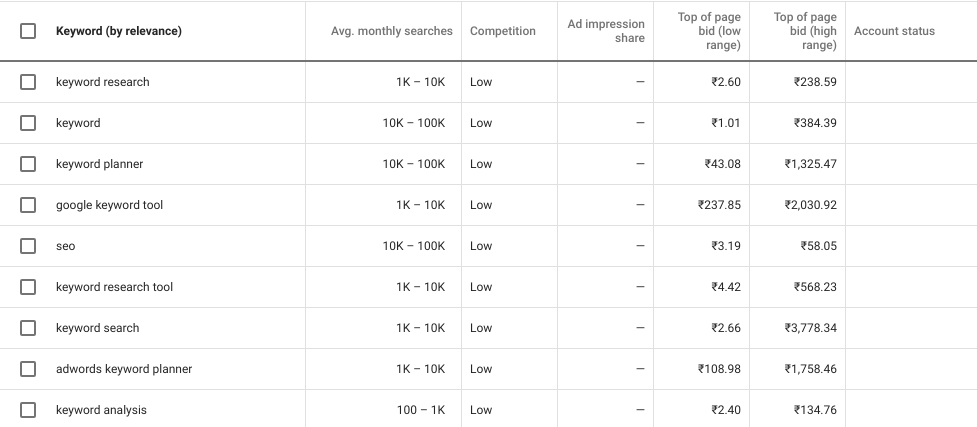 In the Competition column, you can see the level of competition for a particular keyword in the paid search, but in fact, it also represents the complexity of promotion in the organic search. For instance, if the keyword has a high CPC cost, it obviously generates revenue, which indicates that it may be more competitive.
It's worth noting that Google's Keyword Planner is part of their ad platform, and as such their functionality is geared towards advertisers. Also, their "avg. monthly searches" metric is just an estimation.
Fortunately, there are some great alternatives that add extra functionality so you can get more relevant data.
Be sure to check out David Hartshorne's post on keyword research tools for a more comprehensive list. These tools are better suited for traditional and competitor-based keyword research.
It's also important to check which pages are currently visible in the SERPs for your target keywords.
Yes, that's pretty vague advice but when you look at which pages Google is ranking, you can start to get a feel for what it will take to outrank them.
Now, you could simply search Google for this but they personalise results based on numerous factors. This includes your location.
As a quick example, here's a screenshot where you can see the domains that are appearing on Google US for the target keyword 'keyword research'.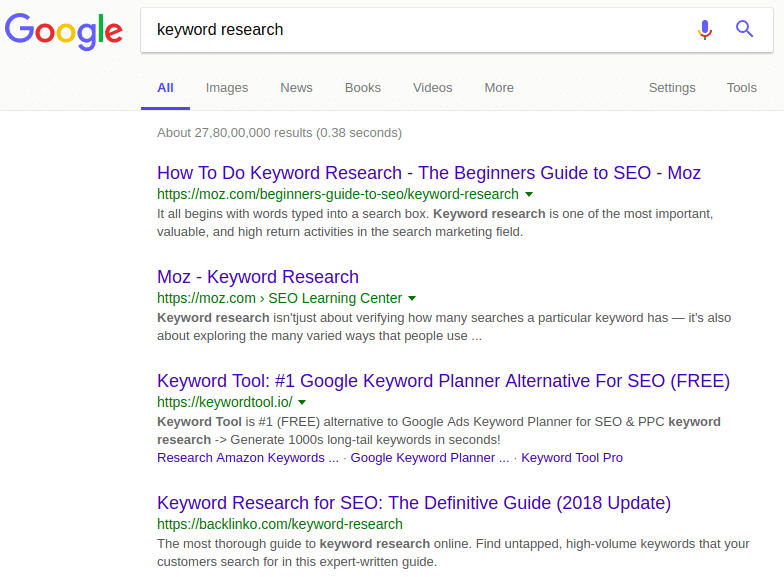 Here, the websites like Moz or Backlinko are going to be difficult to outrank, and this is why it's important to get familiar with your competition.
Even if a keyword research tool says that the competition level is Medium, you need to know exactly who you are standing against to evaluate your chances.
Tip
When you're just starting out, you'll find it easier to rank for more long-tail keywords.
Long-tail keywords are simply longer keywords. For example, instead of a keyword (or search phrase) consisting of 1 or 2 words, you may want to go for terms containing 3-5 words.
For a more in-depth explanation, check out David Hartshorne's post on keyword research for beginner's.
Google still ranks pages based on the appearance of a targeted keyword in your page's URL, title, meta description, and etc
There are multiple studies, such as this one by Backlinko, that show the connection between the keyword usage in on-page elements and the page position in the SERP.
Although most of the page-level ranking signals have not been officially confirmed by Google, many SEOs speculate about their importance and prefer to play safe by applying all of them.
For example, having an exact match of a keyword in a page title tag used to be a critical ranking signal before the rise of semantics in the Google ranking algorithm, thus it had been used ubiquitously.
These days, Google doesn't openly state it to be a requirement, however there is a strong connection between the keyword usage in the title and the page ranking position.
The only case when the exact match of a keyword is indispensable is when the keyword competition level is off the charts. To get into it, let's look at the Google US SERP for 'keyword research tool'.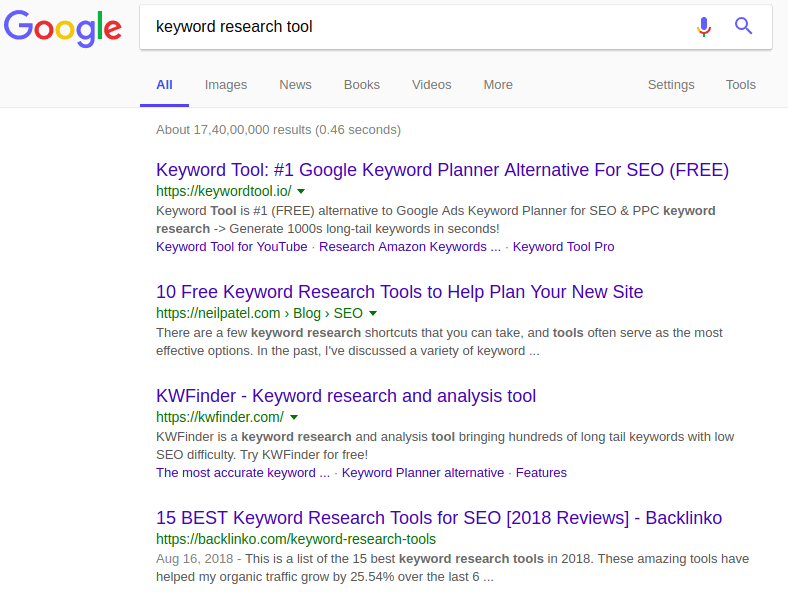 Neil Patel has the exact keyword included into its Title, title tag and partially in the meta description. Backlinko has similar: an exact keyword in the URL, title and meta.
Even Google Keyword Planner's page has the 'keyword research' in its title, and with a high probability it would outrank Wordstream having the same keyword in its URL.
Studies show that the pages that start their title, h1, and meta description tags with the particular keyword perform better compared to the pages that include the keyword towards the end of the tag.
That said, it's important to consider that correlation doesn't equal causation. Just because some studies show that a correlation between ranking signals and results, doesn't mean they are the cause.
But at the very least, it helps users to determine the relevance of your content and that will help satisfy search intent. Which is what Google is going for.
Here's the bottom line:
While there are a significant number of potential ranking factors that search engines use, using keyword research to inform your on-page optimization efforts will help users to understand that your content is relevant for them. And this is a good thing.
How keyword research allows you to understand market demand
There are a lot of moving parts in a successful marketing strategy. As such, a lot of digital marketers don't pay enough attention to keyword research.
What a lot of people don't realise is that keyword research can teach us a lot about general market demand.
Search queries tell a story and it's up to us as marketers to understand that story. It can provide an endless source of high-quality traffic ideas, and even help us develop new products and services to serve our users better.
When searching for something on the internet, people always have a need, even if it's only an information search.
Quite often a need for information will eventually translate into a transactional search. If the offer seems like a good fit for the users needs, it may result in a sale or at the very least, keep your brand top of mind when they're ready.
So, the general tendency is that people reflect the real market demand by searching for a particular keyword in Google.
Imagine having a digital marketing agency.
Running a business in such a crowded marketplace requires you to regularly analyze the market demand to stay on top of the trends.
In which case, keyword research allows you to collect ideas about specific locations you could offer services in, and new services you could offer.
In digital marketing, that could be content marketing, social media management or laser-targeting services like ad management for Facebook or LinkedIn.
Once you collect the keywords that are associated with the services that your business could be providing, you need to evaluate their organic traffic potential.
For example, in Google US SERPs, the total monthly traffic of the search queries related to 'Linkedin ads' comes close to 14k while the 'Facebook ads' related queries exceed 340k in total monthly traffic.
Now, it's important to point out that these figures are typically estimates but it's a good general indicator.
Obviously, Facebook searches are more popular, because LinkedIn is only relevant to B2B businesses while Facebook matches the interests of almost any type of business.
The next important step is to take a look at the websites that are currently showing for a certain group of keywords. Unlike examining the SERPs for a single keyword, checking the organic search results for a group of keywords allows you to perform bulk analysis and see the full picture of your organic competition.
This process can be automated with the help of any position tracking tool that allows you to group the most visible domains automatically.
For instance, here's a screenshot from the Competitors overview report in the AccuRanker position tracker that allows you to see what sites occupy the top 10 organic positions for all of your keywords: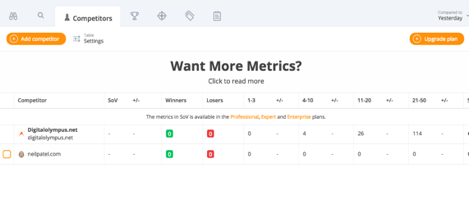 How do You Choose the Right Keywords?
Don't start with keywords: Before you put on your SEO hat or even your marketing hat, just be human. Learn about your customers from your customers. Before diving into tools and spreadsheets, try to gain some real empathy and understanding for the customers you're serving and the perspectives they hold.
Build a seed list: Using what you gained in step one, along with what you know about where your customers' needs and your business' solutions intersect, brainstorm an initial list of words and phrases that effectively describe your core offerings.

Gather current keyword data (if your site already exists):Generate a list of what is currently (and nearly) driving traffic to your site using Google Search Console click data and any ranking data you have.

Expand the list using various keyword tools: Expand on the list you've built from steps 1-3 by looking for new keyword groups, alternate phrases, common modifiers and long-tail permutations. If you haven't used many keyword research toolsup to this point, now's your time.

Group terms by search intent: Categorize your keywords in a way that will be simple and useful for you and anyone else who might look through them. This can be done by audience-type, phase of the funnel, or any other way that makes sense to you.

Map keywords to content: Choose 1-4 primary keywords to target on each page based on a careful balance between keyword difficulty, relevance, and search volume (taking organic SERP visibility into account). Once those are determined, find semantically-related and long-tail modifying terms to help support your primary keywords.

Do it all over again: Once your keyword strategy has been implemented, Google has had time to react and you've been able to collect enough data, rinse and repeat. They don't call it search engine optimization for nothing.
How do You Optimize Your Website for Keywords?
Much like choosing keywords, effectively optimizing your website for keywords could live on its own blog post. However, here are a few tips to get started.
Where to Incorporate Keywords on a Webpage
URLs: URLs rarely change, are highly visible and describe the entire page. For those reasons, Google places some value in what they say.

Static content: Search engines are getting much better at crawling dynamic content. Static content is a near-guarantee for indexation.

Title tags: Title tags influence rankings and click-through-rate (CTR) and if written effectively, keywords can help with both.

Meta description tags: Unlike title tags, meta descriptions do not influence rankings in Google. However, including them can increase CTR.

Most visible content: Google's job is to understand content the way we do. An H1 tag at the top of the page gets far more eyeballs than boilerplate content at the bottom. Whether it's a heading tag, early body copy or a bolded phrase, the most visible content is generally the most influential for SEO.

Internal links and surrounding content: Incorporating keywords into the anchor text of links pointing to your page from others on the site helps show Google what your page is about. Similarly, content nearby anchor text pointing to your page is also observed by Google and, to a lesser degree, is used to describe the destination page.

Image and video file names: Instead of letting your phone give your image or video a default name that usually contains something random and nonsensical, give it a descriptive name using a relevant keyword.

Image alt attributes: Alt tags not only make your site more inclusive for your visually impaired audience, they give Google a better idea of your picture. Incorporate keywords when appropriate.

Image title attributes: Image titles don't work on all browsers the same way, which is why Google may not put much weight into this content. However, if there is an opportunity to gracefully include keywords, go for it.

ARIA tags: ARIA tags are similar to alt attributes in that they help make website content more accessible to those with disabilities. You can use ARIA tags on certain types of dynamic content, interactive content, background images, and more.

Video closed captioning and/or transcripts: Some videos contain extremely relevant keywords but Google has no clue. Make sure what is heard and seen gets included in your indexable closed captioning or transcript.

Schema markup: Schema helps add context to content. When applicable, mark your keywords up with the most appropriate schema properties to remove some of the guesswork for Google.
Over to you
As I've showed you in this post, keywords still matter and keyword research plays an important role in the SEO process.
Here are the key 5 takeaways that best summarize what was covered:
Stay focused on satisfying the user's search intent – Analyze what your users are looking for and instead of just focusing on individual keywords look into the intent behind searches.

Create content around closely related groups of keywords rather than exact-match keywords, and provide an in-depth view on the topics that are of a greater interest to your audience;

Don't skip keyword research as you risk targeting keywords with zero search volume or an unapproachable competition level;

Keyword-related ranking signals are not officially confirmed to impact rankings, however multiple studies prove that there is correlation – whether this equals causation or not, it's an important indicator of relevance;

Keyword research allows you to better understand the general market demand, which is ever-changing and requires constant monitoring.
---
---
Your email address will not be published. Required fields are marked *