iOS 12 - Top iOS 12 features
by jay patel
---
---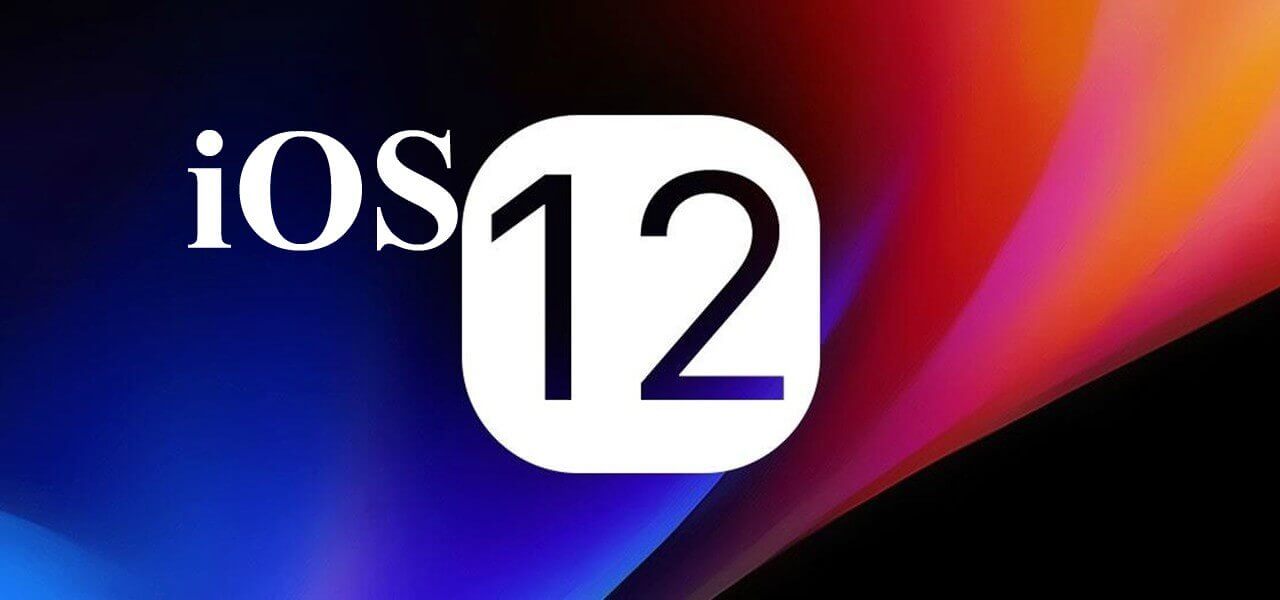 ---
Apple introduced the newest version of its iOS operating system, iOS 12, on June 4 at the keynote event of the Worldwide Developers Conference.
With iOS 12, Apple doubled down on performance, working from top to bottom to make iPhones and iPads faster and more responsive. Apple has made improvements on devices both old and new, and iOS 12 has been designed to run on all devices able to run iOS 11.
After months of betas, the final version of iOS 12 is officially here and available for download.
To download the update you'll want to make sure all of your data is backed up and that you're running the latest version of iOS. Simply go to Settings > General > Software Update Apple's iOS 12 page and select the option to install iOS 12. If you don't see an option to update, you may want to check to make sure your device is supported. It's also important to note that not all Apple devices are compatible with the new OS.
From app updates and new Memoji to ARKit 2.0, here are all the new features iOS 12 has to offer.
NEW IOS FEATURES
Apple TV in the Control Center
ANIMOJI AND MEMOJI
iOS 12 also brings along more Animojis — specifically the ghost, koala, tiger, and Tyrannosaurus rex. There is also a new feature that allows you to add a tongue or a wink to any Animoji.
But that's not all — Apple also introduced Memoji (which might be its response to Samsung's AR Emoji). You will now be able to create an augmented reality character that resembles you — with the option to choose from different hairstyles, eye colors, and more distinct features like freckles.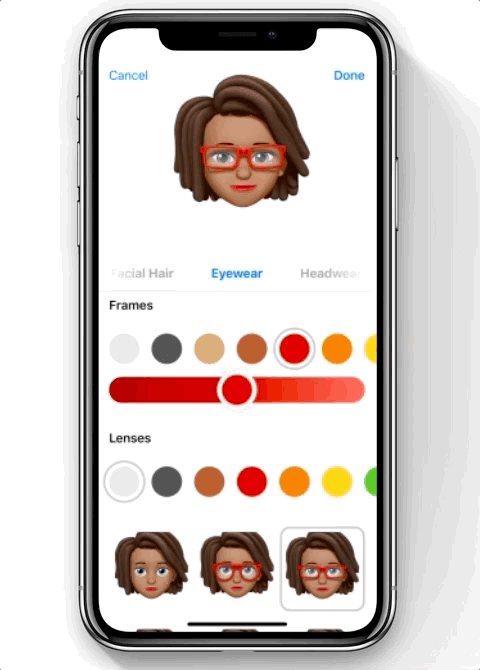 New Animojis are always cool, but Apple just went all Bitmoji on us with their version of Snapchat's augmented reality avatars. Apple's version is called "Memoji," and can be completely customized to however you want. Plus, unlike a Snapchat Bitmoji, you can have as many Memojis as you want.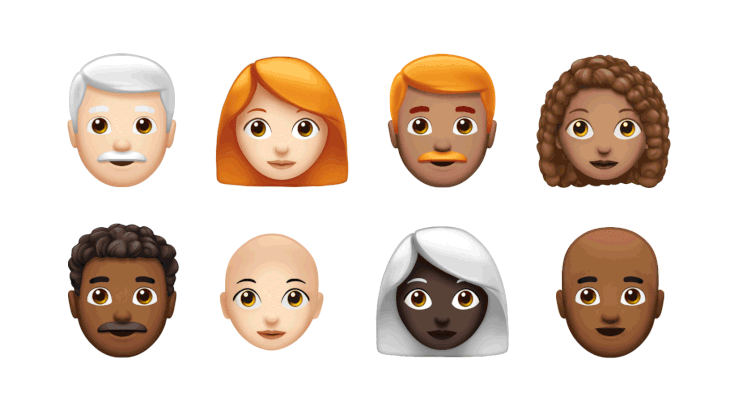 More Info:How to Create a Personal Memoji on the iPhone X
CARPLAY SUPPORTS THIRD-PARTY NAVIGATION APPS
With CarPlay, Apple has added support for third-party navigation apps rather than having to rely on Apple Maps.
Now available for CarPlay in iOS 12 is Google Maps, but you' have to make sure you updated to the latest version. By using it with CarPlay, you can search for places, traffic information, alternative routes, and more, right from you car's built-in display. If you start navigating on your iPhone and then jump in the car, Google Maps will also automatically pick up right where you left off once you're connected to CarPlay. Other features include the ability to access lists to navigate to some of your favourite spots, and traffic updates between work and home if you set up your commute.
GROUP FACETIME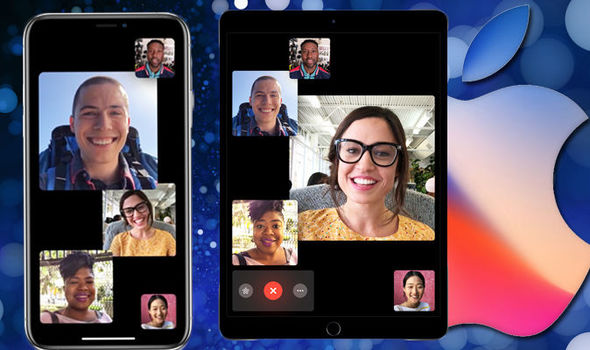 Group FaceTime allows you to chat with up to 32 people simultaneously. Since it's now integrated into iMessage, you can easily set up a group FaceTime call through the iMessage group chat window. You also have the option to add fun effects like stickers and Memoji while on the FaceTime call.
FaceTime also includes the same Effects camera that's been introduced in Messages, letting you access Animoji and Memoji, filters, stickers, and more while FaceTiming someone.
The feature works on iPhone, iPad, and Mac. For Apple Watch users, you'll be able to answer via FaceTime Audio. This feature will not roll out with the initial launch of iOS 12 but Apple plans to bring the feature to its users later this fall.
SIRI SHORTCUTS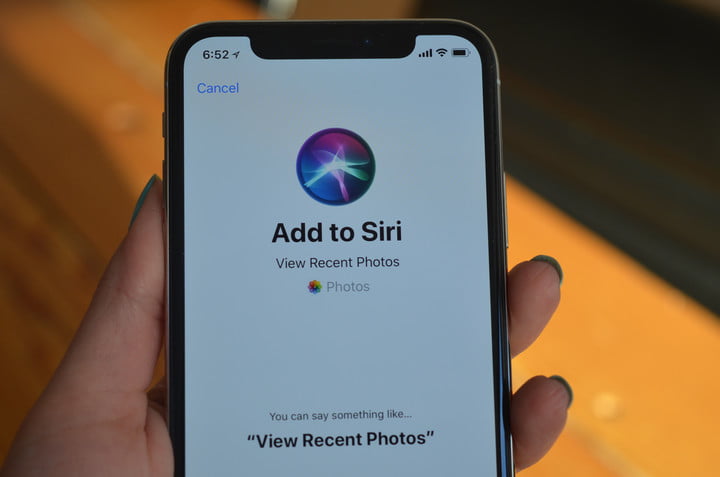 With a new Siri Shortcuts feature, you can create multi-step shortcuts using third-party apps that can then be activated using a Siri voice command. So, for example, you can create a shortcut to do something like turn on the thermostat at home using the Nest app, text your roommate that you're on the way with Messages, and open up the Maps app with directions home all with a single "I'm going class" Siri command.
Users will be able to use Siri Shortcuts on not only their iPhones but also on the HomePods and Apple Watches.
One feature Apple didn't mention at WWDC were critical alerts. You will be able to opt-in for notifications that are important even with Do Not Disturb turned on — this can be especially useful when a healthcare provider is trying to get in touch with you about important information..
SIRI SUGGESTIONS
With iOS 12, Siri can also adapt to your behavioural patterns using artificial intelligence. Whenever you use the Spotlight Search tool, you'll see suggestions show up underneath. The suggestions vary depending on what you've been doing on your device — it can vary from texting a friend back or returning a missed phone call.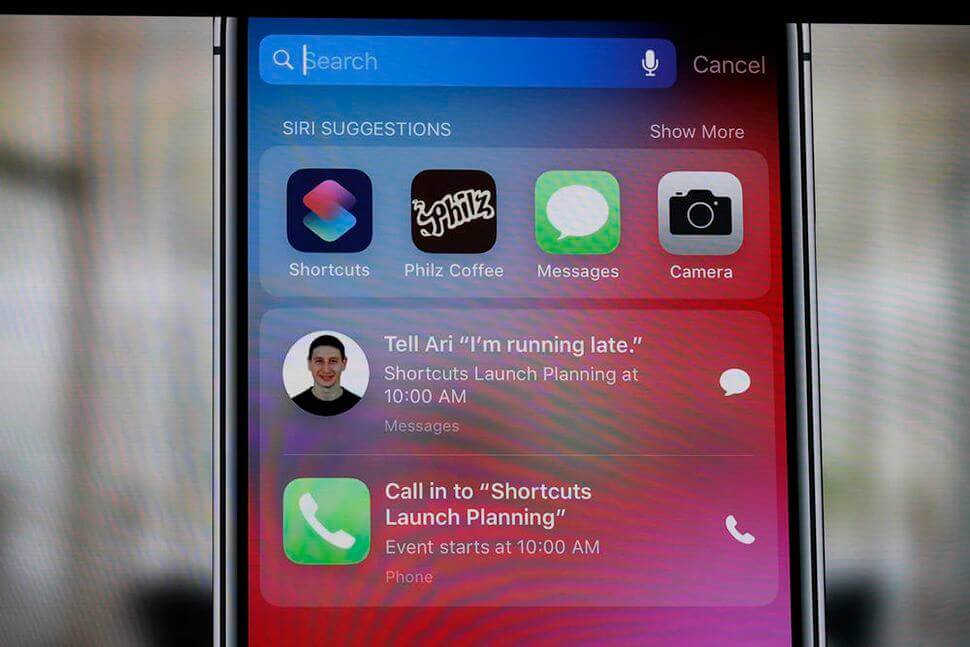 If you wake up and order coffee every morning, Siri might suggest your favorite coffee app on the Lock screen. Or if you use a specific workout tracking app at the gym, Siri might suggest that app when it determines that you're at the gym for a workout.
Tapping on the suggestion will automatically open to the specific task. The more you use iOS 12, the more suggestions Siri will be able to provide you with on a daily basis.
OTHER SIRI ENHANCEMENTS
Siri in iOS 12 can answer questions related to Motorsports, food, and celebrity questions, and the personal assistant can provide you access to the passwords stored in your iCloud Keychain.
For motorsports, you can ask Siri for live standings, schedules, rosters, and stats, while Siri's celebrity repertoire allows it to answer questions like "Where was Christian Bale born?" or "Who is Amy Adams married to?"
With new food knowledge, Siri can access information from the USDA database. So you can ask questions like "How much caffeine is in a cup of tea?" or "How healthy is fish?" or "How many calories are in an apple?"
Other new Siri features include an ability to access your passwords, either for a specific app or your entire iCloud Keychain, and the ability to search through photos and memories based on people, places, events, time, and object keyword.
Siri can now translate to and from an additional 40 languages, greatly expanding the built-in translation feature.
APP-LEVEL DATA USE INFORMATION
While you have been able to easily find apps that are battery hogs on iOS for years, Apple added a new feature that allows you to see what apps use a lot of data. If you want to check out your data use, go to Settings > Cellular.
REDESIGNED MAPS APP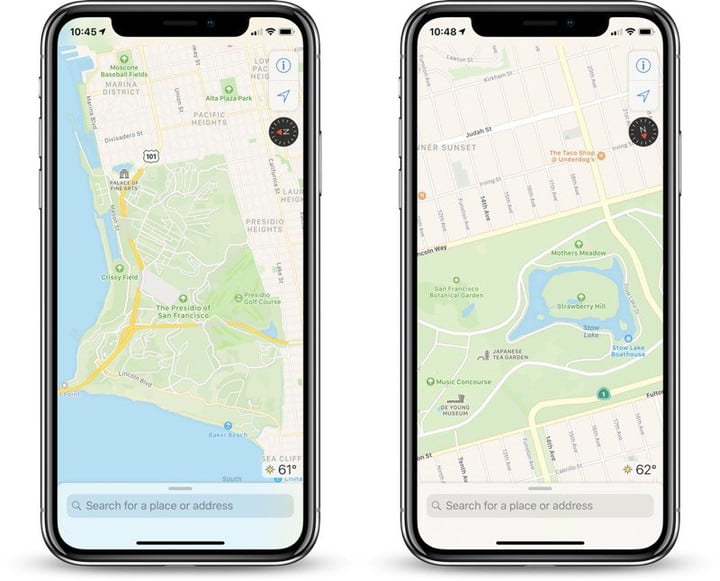 Apple is rebuilding the Apple Maps app from the ground up using anonymized segments of trips gathered by iPhones, satellites, and the Apple Maps vehicles that have been driving the streets around the world for years now. Apple no longer plans to rely on third-party data from sources like TomTom for Maps, and will use its in-house data.
Maps will feature much better traffic information, real time road conditions, new construction details, road systems, and changes in pedestrian walkways. Search is being overhauled to ensure more relevant results, and navigation, especially pedestrian navigation, is being improved.
For far more information on the revamped Maps app, make sure to check out TechCrunch's overview and Q&A articleson the new feature.
ADVANCE LOCATION DATA SHARED WITH 911 AND FIRST RESPONDERS
iOS 12 has a new feature that will make it easier to locate iPhone users in an emergency. The feature automatically provides secure location data to first responders when you call 911.
The service combines Apple's exciting HELO technology that estimates location based on cell towers, GPS and Wi-Fi Access Points with a technology created by RapidSOS to securely deliver the location data information to 911 in an emergency.
ACCIDENTAL SCREENSHOT PREVENTION
In iOS 12, accidental iPhone X screenshots are less likely to happen through a new feature that prevents a screenshot from being taken while the iPhone X's display is turned off. With the change, the screenshot feature is deactivated until the iPhone X's display is activated. iOS 12 also prevents screenshots from being captured and the camera from working when an iPhone or iPad has been restarted or powered back on after being shut down.
IMPROVED QR CODE READER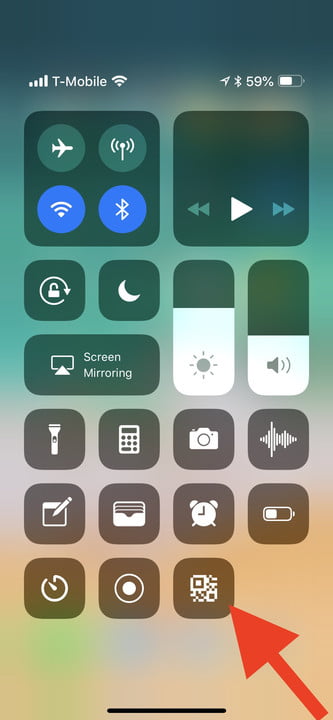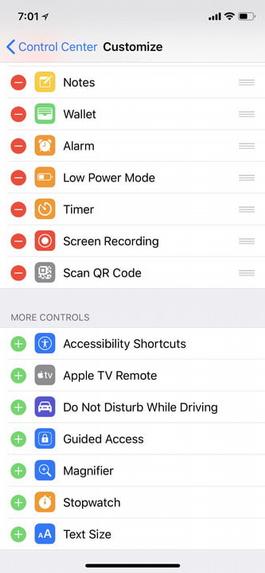 The QR code reader was originally introduced in iOS 11, but iOS 12 has brought improvements to the feature. Instead of pointing your camera at the code, iOS 12 will now highlight it for you to indicate that it has been detected. For easier access to the feature, you can also now add it to your Control Center. So when you want to scan a QR code, all you need to do is swipe into the Control Center and tap the tile to launch the feature.
EASY-TO-USE APP SWITCHER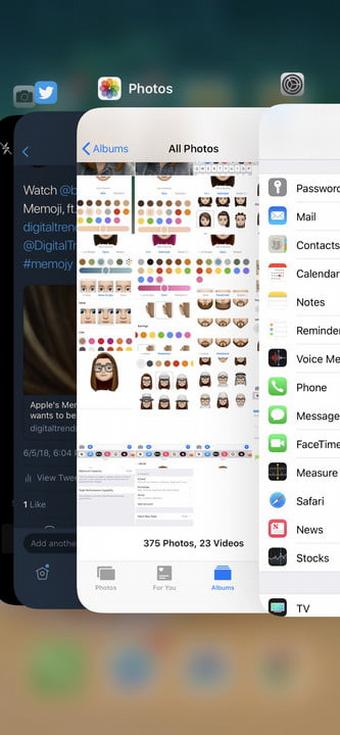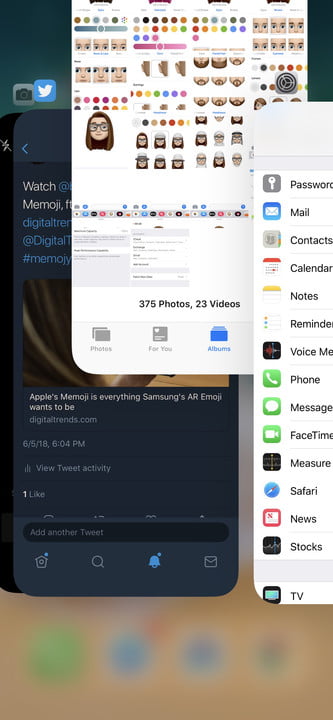 With iOS 12, you no longer have to long-press a card in the app switcher and then tap the minus button. Instead, all you need to do is swipe up once and then swipe up again on the app you want to specifically close out of.
UPDATED BATTERY INFORMATION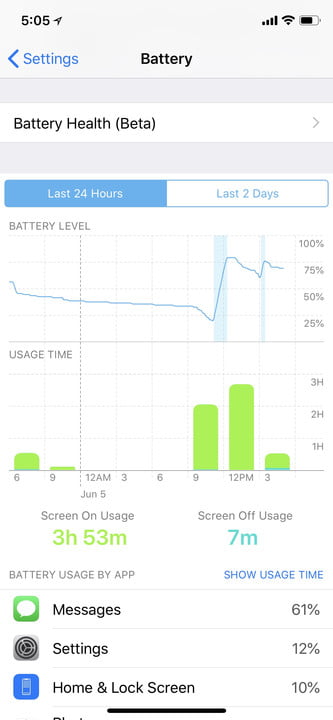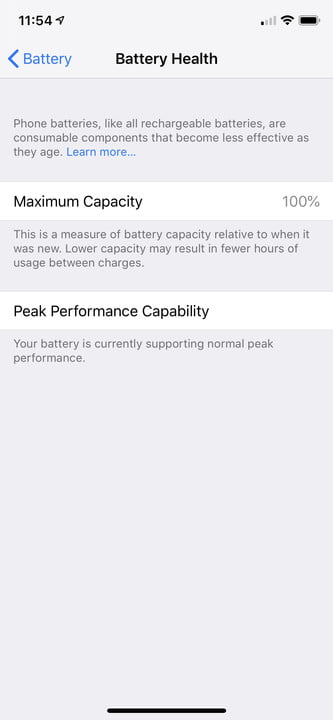 Originally introduced in iOS 11.3, the battery health information feature allows you to check on how much power you're using on specific apps. By going into Settings > Battery, you will see graphs that display your battery usage within the last 24 hours and the last two days. Underneath, you will be able to see your battery usage by each individual app and the usage time.
To check on your battery and throttling, go to Settings > Battery > Battery Health. From there, you will see your maximum battery capacity in comparison to when the battery was new.
Battery Stats Show When You Were Charging

Battery Stats Also Shows Cell Coverage Now
IMPROVEMENTS TO PORTRAIT MODE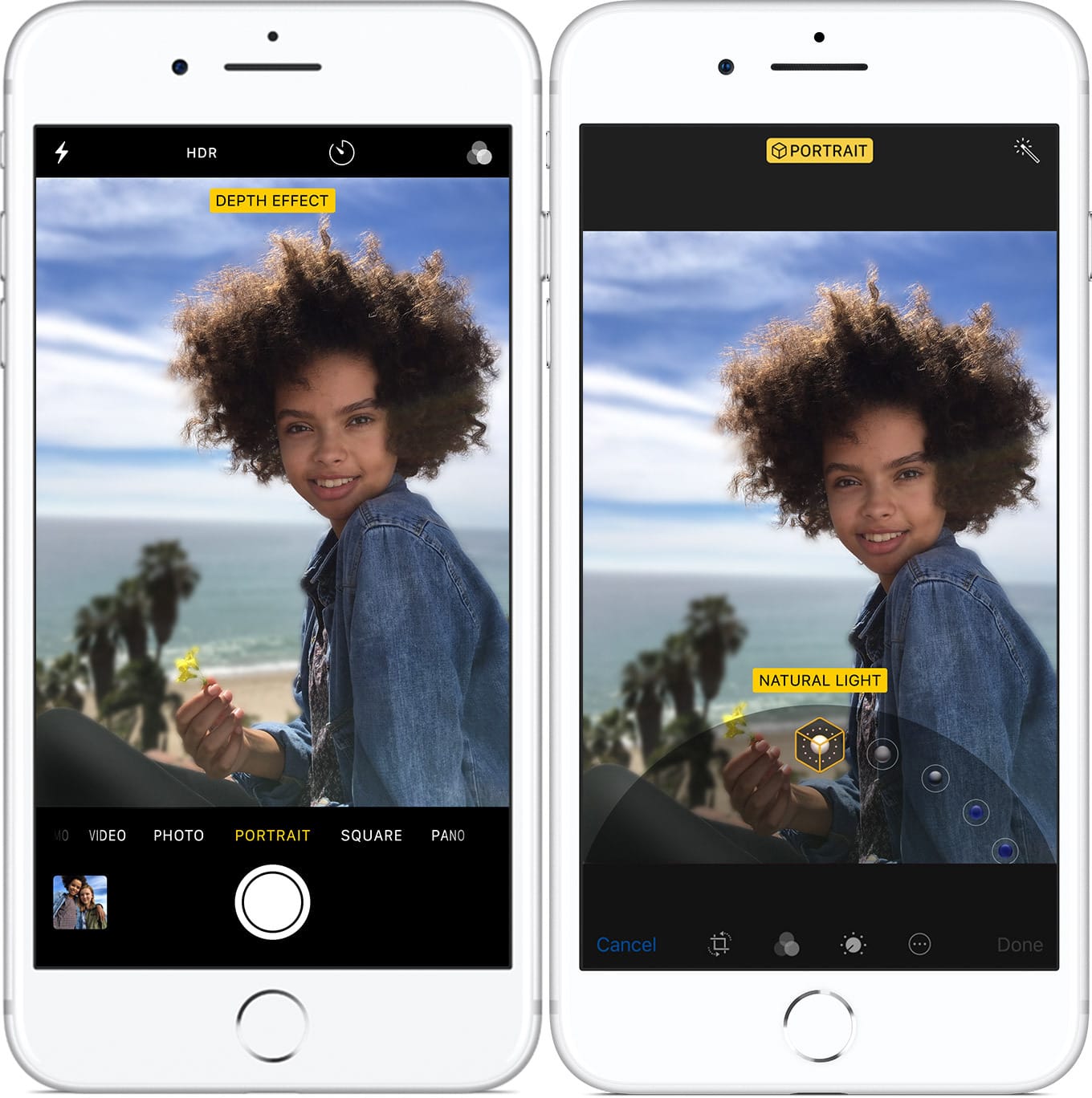 In addition to updating its camera hardware for this years iPhones, Apple updated its Camera app. The main change is that Portrait mode is improved since the app generates a mask when it detects a person in order to separate the person from the scene when processing the image.
In addition, you can also import RAW-format photos from your computer and camera with iOS 12 onto your iPhone and iPad. Apple says users will also have the ability to edit the RAW image files on their iPad Pro.
AUTOMATIC STRONG PASSWORDS
In iOS 12, your iPhone and iPad automatically suggest strong, unique passwords for each and every website and app where you need to create a login. All of these passwords are stored on your iOS device, and you can even ask Siri to open up your list of passwords, which are synced across your devices.
Password management apps like 1Password will also be able to provide passwords for websites and apps through a new Password AutoFill extension that's available to developers.
You can share your passwords more easily in iOS 12 with Password AirDrop options, which let you AirDrop your saved passwords to other devices and other people for quicker password exchanges. Passwords can be shared from nearby iOS devices, from an iOS device to a Mac, and from an iOS device to the Apple TV.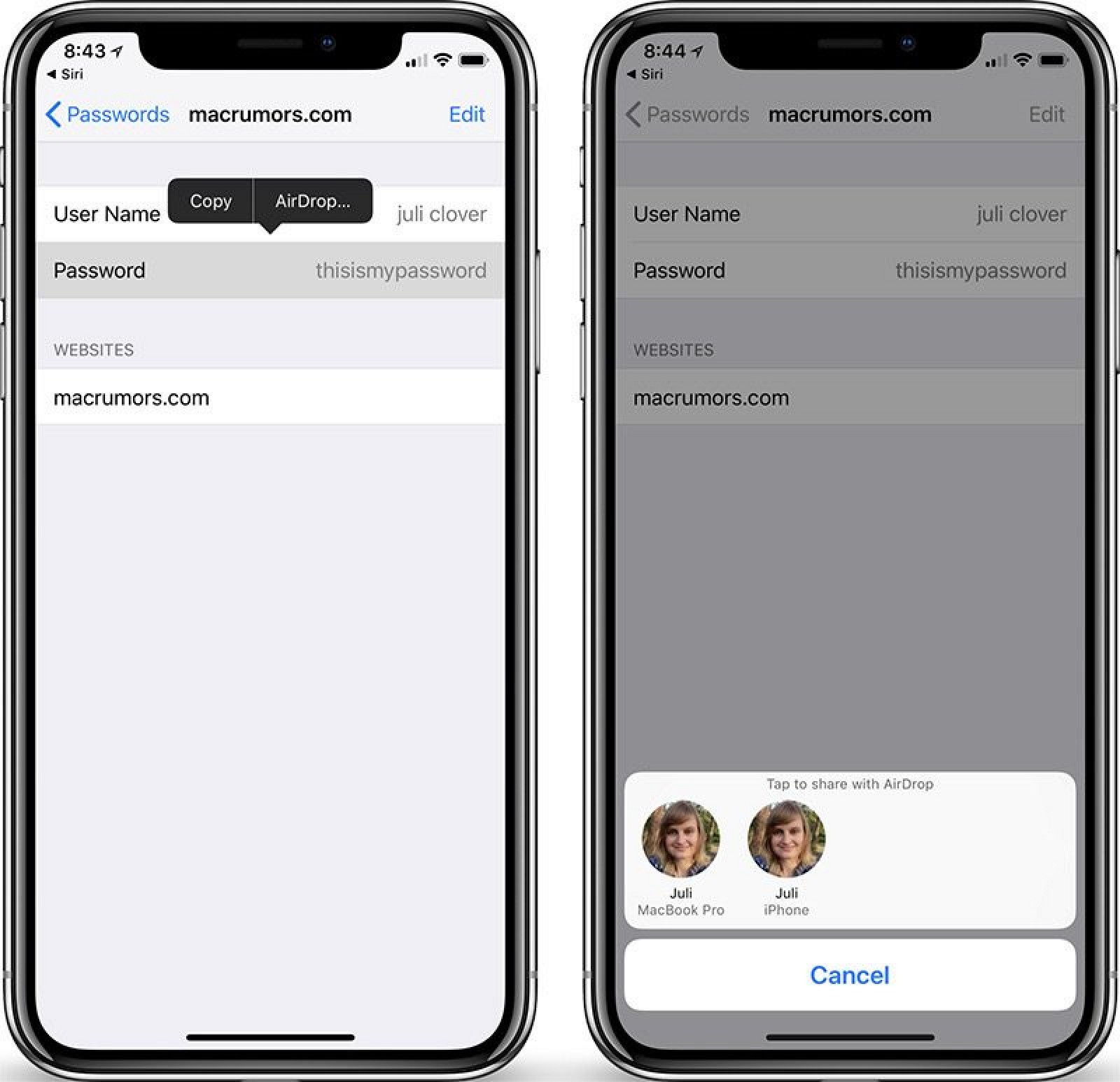 PASSWORD AUDITING
Apple now lets you know if you've used a password that's too weak or has been used across multiple sites with password auditing features. iOS devices flag inadequate passwords and provide you with an option to go right to the site in question to update it with something more secure.
SECURITY CODE AUTOFILL
Many apps and services offer two-factor authentication, requiring a code texted to your phone number. In iOS 12, Apple detects these incoming security codes from the Messages app and offers it as an AutoFill option so you don't need to leave the login screen to access the code.
IMPROVED FACE ID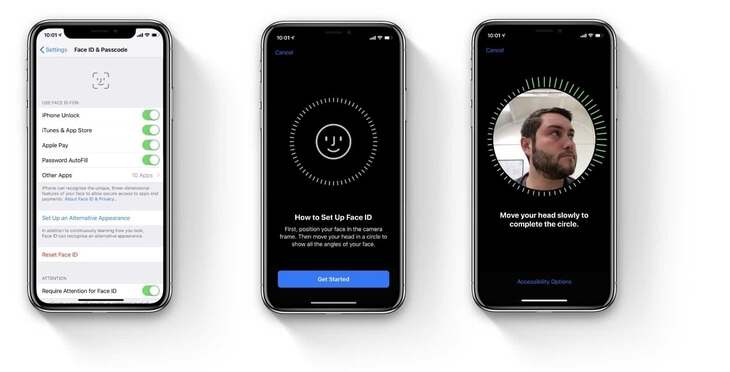 One of our favorite updated features in iOS 12 was actually completely glossed over at WWDC. Face ID got a major overhaul for iOS 12
You can now add two different Face ID profiles to unlock your phone and complete secure tasks. Hidden in the Face ID & Passcode settings, you'll find an option to add an alternate appearance.
You Can Swipe Up to Try Face ID Again (iPhone X Only)
Before, after a few failed attempts at trying to scan your face, Face ID would quit and require you to enter in your passcode. Now, in iOS 12, that's still the case, only you can continue to try Face ID again until it works. Just swipe up from the bottom of the screen when you see the passcode keys, then try again.
BETTER PERFORMANCE
In particular, iOS 12 will be focused on doubling down on performance. Apple delivered an OS that's faster and more responsive across all iOS devices. The focus has mainly been on optimizing the system when it's under load, with load speeds up to two times faster for sheet display and app launches.
CPU performance will also be ramped up to its highest state for performance and will be ramped down just as quickly in order to preserve battery life.
One other minor update to bears mentioning is the improved animations you'll find in iOS 12. When transitioning from one app to the other, the transition animations are smoother and faster than they are on iOS 11.
NEW AR FILE FORMAT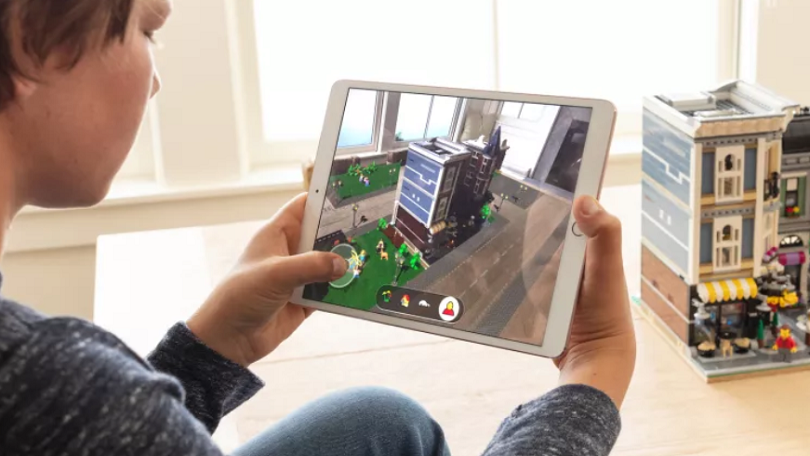 Apple wanted to make it easier to experience augmented reality with a new file format called USDZ. Developed in partnership with Pixar, USDZ is an open file format that allows developers to create and share 3D Augmented Reality assets, all through a single and compact file format.
MEASURE APP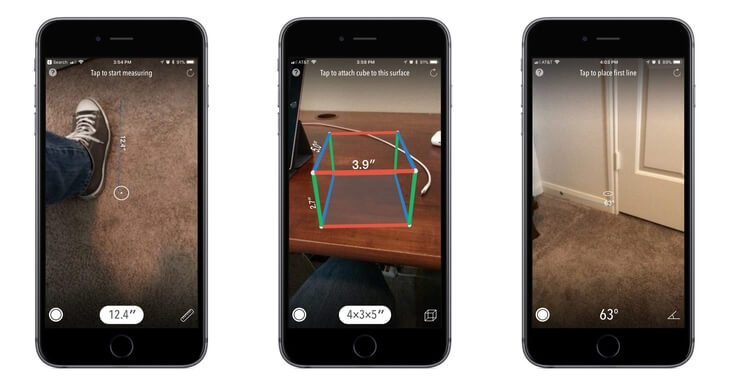 With the Measure app, you can easily get direct measurements of any objects around you. By tapping the object and dragging out a line, it will display a measurement right on your screen. You can also extend the measurements by tapping along the edges and dragging down. You also have the ability to tap on an object like a photo, and have the app automatically detect the measurements, providing you with each dimension.
ARKIT 2.0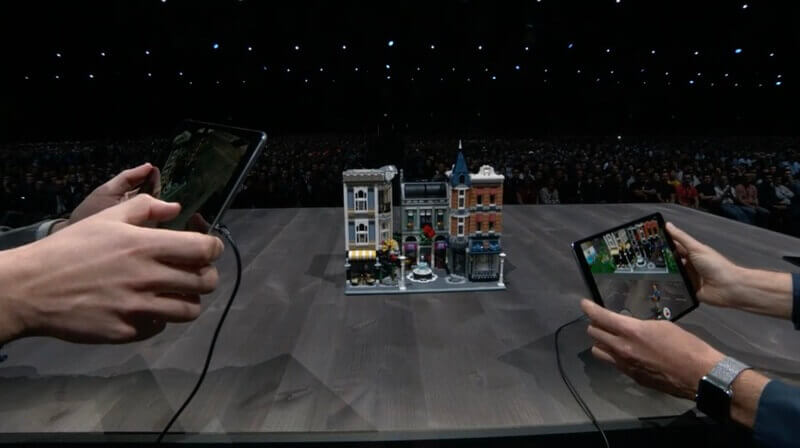 ARKit 2.0 introduces improvements that include better face tracking, realistic rendering, 3D object detection, persistent experiences, and shared experiences. These last two additions make the biggest change in AR apps.
With persistent experiences, an AR experience can be tied to a real-world object or area and then accessed time and time again, without the need to start fresh each time you open an app. Apple demonstrated this with an ARKit-compatible LEGO set, building a virtual world around the set that could be altered and saved with each gameplay session. Think of persistence as saves for your AR experiences.
PHOTOS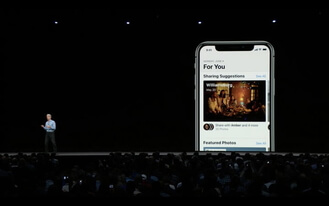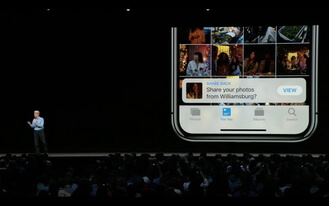 The Photos app in iOS 12 is better than ever thanks to a range of performance and feature improvements. Search is more powerful, allowing you to search for businesses by name or by broad categories like restaurants, and Apple has added more than four million event references for things like sporting events and concerts, so you can also search by event and find your photos that way.
Search suggestions have been added to help you find content before you even start typing, with Apple offering up suggestions that include Events, People, Places, Categories, and Groups, and you can also use multiple search terms at one time.
DO NOT DISTURB AT BEDTIME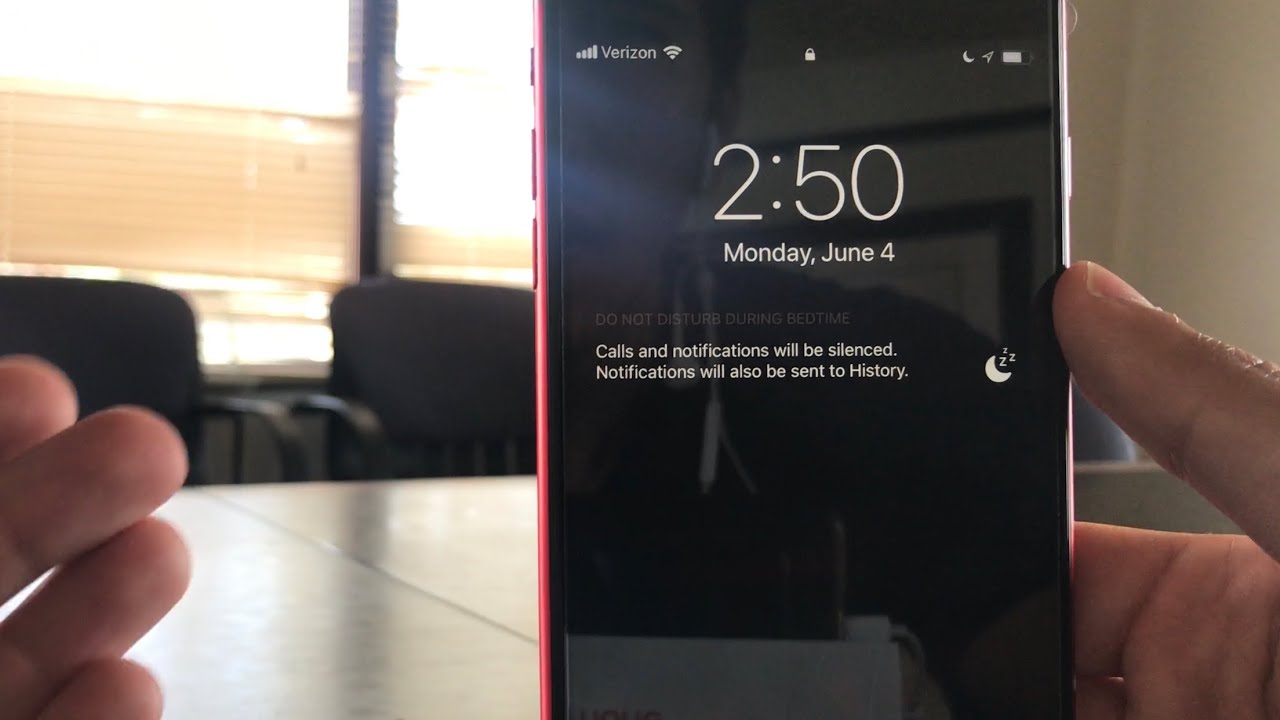 With a new Do Not Disturb feature, you will no longer wake up to a ton of different notifications on your lock screen. By turning this feature on, all of your notifications will be hidden until you toggle Do Not Disturb off.
For those who find themselves using Do Not Disturb often, you'll also be able to set an end time to automatically turn the feature off whether it's when you leave a particular location or an event ends.
GROUPED NOTIFICATIONS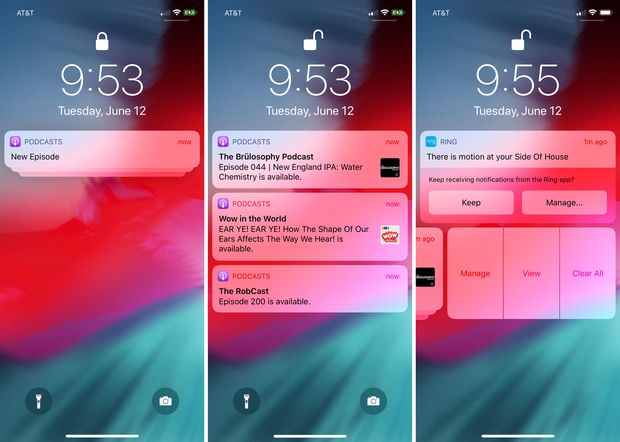 Rather than seeing a long list of notifications, iOS 12 now groups them for you — not just by the app but also by topic and thread. You can tap in and look at a particular notification and then delete an entire thread with a single swipe.
You can also tune your notifications and decide whether you want a particular app to send you ones in the future or if you want it to bypass the lock screen. Siri even suggests which notifications you should turn off depending on the apps you don't use often.
MANAGING SCREEN TIME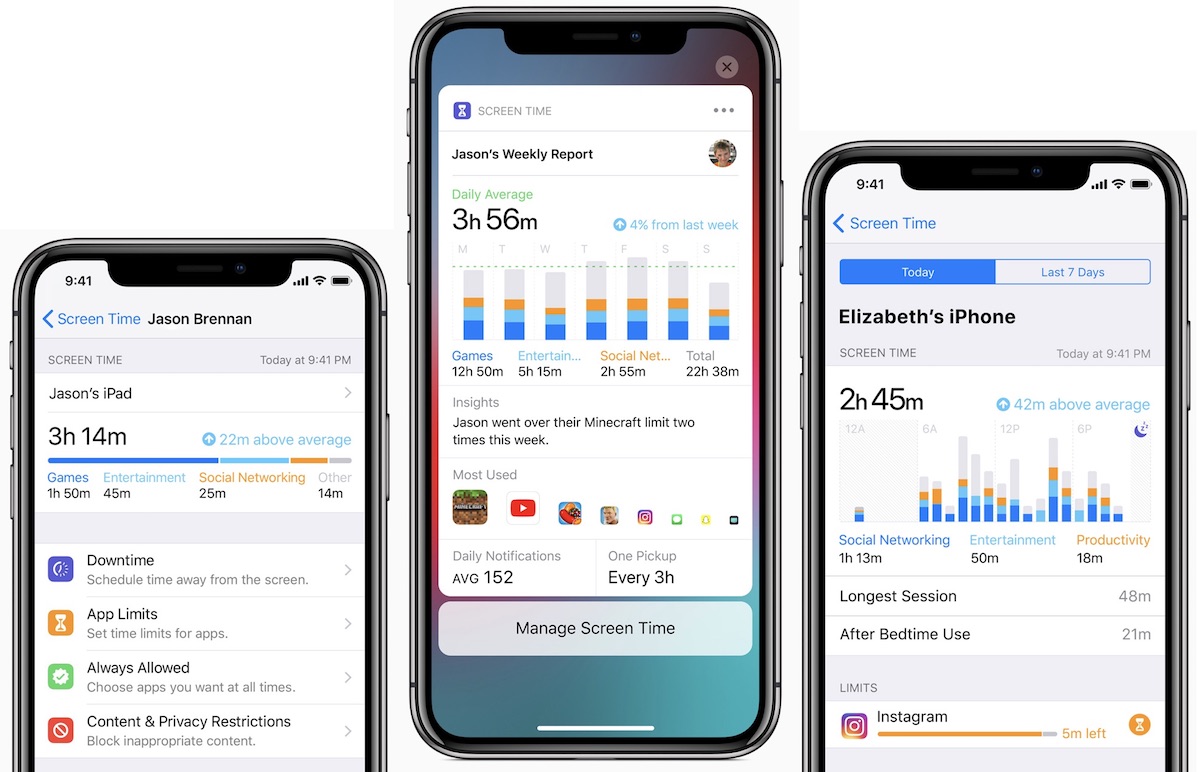 To allow users more insight and control over how much time they spend on a device, iOS 12 provides users with a detailed weekly activity summary. You can easily see how much time you spent on your iPhone or iPad — whether it's within a specific app, how often you're picking up your phone, or what apps are sending you the most notifications. You can also add it as a widget on your home screen to easily access it.
Thanks to an App Limits feature, you can also set your own limits for how much time you want to spend on a specific app. You'll then receive notifications letting you know that time is almost up and once you've reached your limit.
Parents will also receive a report of their kids' phone usage and will have the ability to give them allowances. With a Downtime feature, parents can choose whether they want to limit their kid's usage by category, individual app, or unplug altogether. There is also an Always Allowed section that gives them the ability to still make phone calls, use educational apps, and more. Parents can also limit access to movies and websites. All of this can be managed remotely across iPhone and iPad using the Family Sharing app.
APPLE TV IN THE CONTROL CENTER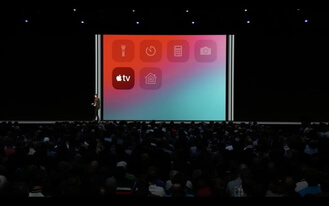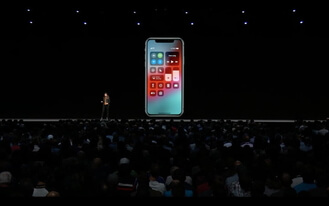 For those who use Apple TV, you can now add an Apple TV tile to the Control Center in iOS. That way, you're able to easily access it by swiping up to the Control Center menu and tapping on the icon.
A VARIETY OF APP UPDATES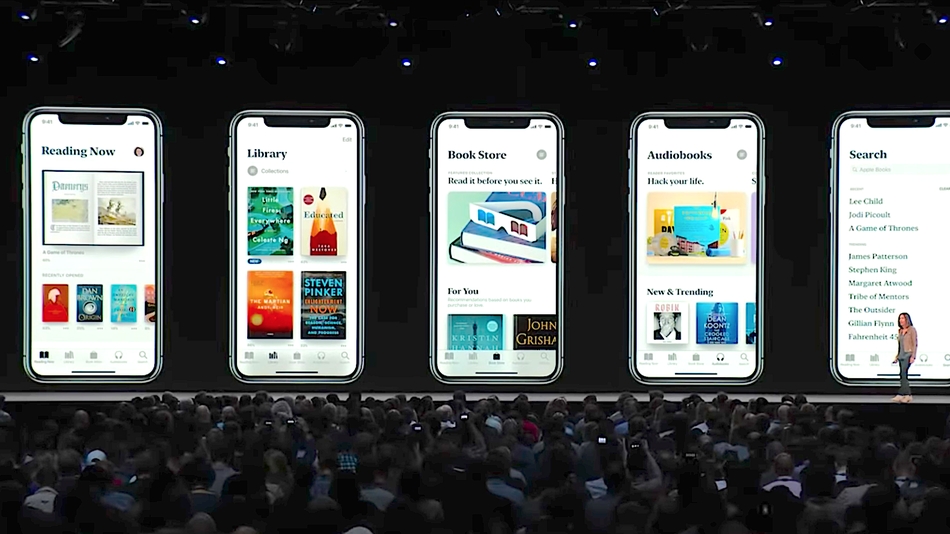 The News app didn't receive a huge overhaul — those who use it on the iPad will now have a sidebar to scroll through in order to make it easier to find stories. As for the Stocks app, there's a new sparkline that shows stock performance throughout the day. Apple News has also been integrated into the Stocks app, allowing you to see top stories right in Stocks without having to leave the app. You'll see relevant headlines from Apple News and be able to tap on them to view the full article. Stocks will also be coming to iPad with iOS 12.
Apple also updated the Voice Memos app with availability on the iPad. The app also has added iCloud support, allowing you to sync your recordings across all Apple devices.
Previously known as iBooks, the redesigned app also has a new name — Apple Books. New features include a "Reading Now" section that previews where you left off, allowing you to easily pick right back up again. There's also a new "Book Store" that makes browsing for new books easier than it was before.
---
---
Your email address will not be published. Required fields are marked *