10 Incredible Link Building Strategies For 2018
by Shweta Patel
---
---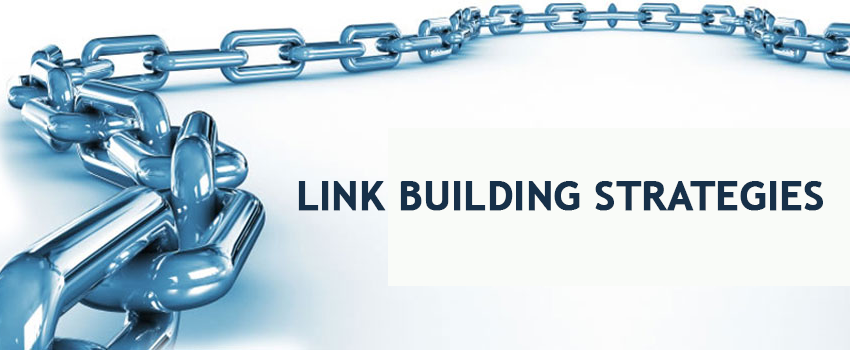 ---
SEO link building is a topic that is widely discussed in the SEO community.
Even in 2018, links still seem to be one of the strongest ranking factors out there.
Can a website rank without back links?
We are 100% sure that a website cannot rank without inbound links.
Why is link building important?
because links are Google's #1 ranking factor

because links are the WEB

because links point to great content (that deserves to rank well)

because they transfer power

because they transfer trust

because Google confirmed that it would be unnatural to find a web site without back links

because it's through links that Google discovers your website...
We explain Google's Quality Guidelines regarding link schemes, to give you a clear picture of how to build high-quality links and how to stay away from building bad links. It's all about quality, relevancy, and user focus.
Bad Link Building

Good Link Building

Reciprocal Linking

Excessive link exchange ("Link to me and I'll link to you") or partner pages
exclusively for the sake of cross-linking will negatively impact a website's
ranking in search results.

Reciprocal Linking

As long as you don't do reciprocal linking excessively and these reciprocal links are on topic and "make sense from a user standpoint", link exchange is not something bad.

Article Marketing or Guest Posting

Links with over optimized anchor text in articles or press releases distributed
on other sites. For example:
There are manywedding ringson the market. If you want to have awedding, you will have to pick the best ring. You will also need tobuy flowersand awedding dress

Article Marketing or Guest Posting

It's great that people write about you and link back to your website, but just as long as they create links naturally. Stuffing the anchor text with commercial keywords is far from natural and will surely get you in trouble. Using brand keywords or navigational phrases is a good option in this case.

Web Directory Links

Adding your site to any web directory just to get a backlink will have a negative effect on your website's ranking.

There are some directories that provide no real value to the Internet users and Google has excluded them from its search results. You don't want your website to be in there!

Web Directory Links

The best directories are the ones that also provide useful information for your potential customers.

The key to link building is RELEVANCY. Therefore building links in niche directories and directories attached to informative websites relevant to your industry are beneficial for you.

Forum and Blogposts Comments

Unhelpful forum or blog comments with optimized links in the post or signature, for example:
Thanks, that's great info!- JaneJane's SEO agency
SEO Agency Services London

Forum and Blogposts Comments

If you participate in an active discussion on a forum or blog that is relevant to your business and if your comment provides contextual value to the discussion, then you don't have to worry about sharing a relevant link. But make sure that you don't overdo this by using commercial keywords in your anchor texts.

Buying Links… or Not!

Google clearly states that buying backlinks to improve your rankings breaches their guidelines.

They consider links as votes and paying for a vote is unethical. As well as potentially being a waste of money, low-quality paid links are extremely high risk.

Links bought from sites that openly state (on their site or elsewhere) that they sell links are your ticket to a Google Penalty

Buying Links… or Not!

Instead of buying links, you can invest in creating high quality content and promoting your site in a way that attracts natural backlinks. Taking this approach doesn't cost you more than buying a bunch of bad links, and you can ultimately achieve much better results, it just requires more patience
Check Out This List Of Some Link Building Stretagies Which Online Marketing Experts Use:
#1 – Guest Blogging
#2 – Broken Link Building
#3 Reverse Engineering Competitor Backlinks
#4 Newsjacking
#5 Influencer Marketing (ego bait)
#6 Data Driven Content For Link Building
#7 Reddit Link Building
#8 Mention Link Building (Link Reclamation)
#9 Content Syndication
#10 Local Citations
#1 – Guest Blogging
Guest blogging is one of the avenues for driving new traffic to your site.
It's relevant, industry-specific, and gives you the opportunity to brand yourself as an industry expert and thought leader.
Blogging on your own site is great. But posting on guest sites that already have millions of fans is an easy way to draw traffic you otherwise couldn't access.
There are many sites and blogs that will accept to publish your article. Before you write an article somewhere, make sure that:
the website or blog is relevant to your topic;

the article is NOT about how great you are/ your company is;

you have a focus on quality (well written, professional, and interesting);

you keep in mind that a poor article can bring bad reputation.
It's important that you build links that help your website and not links that can negatively impact your website's ranking in search results.
Alex Turnbull, the founder of Groove, used guest blogging as his main link building and content marketing promotion tactic to grow his business to reach over 1 million people.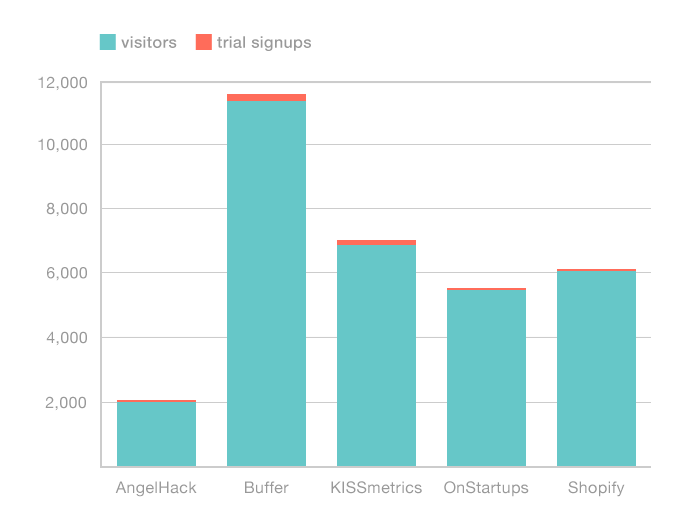 After publishing in sites like OnStartups, Shopify, KISSmetrics, Buffer, AngelHack, and Copyblogger, Alex ended up attracting more than 10,000 subscribers to Groove's blog, which drove revenue and growth up.
To get started with guest blogging, there are 5 steps you need to follow:
1. Find your prospects
2. Qualify the right blogs
3. Outreach
4. Create the content
5. Build relationships
Find Your Prospects
The first step to getting started with guest blogging is to find your prospects. These are the websites where you are going to publish your piece of content.
Ideally, you want to publish in sites with high DA (domain authority) and high traffic.
#2 – Broken Link Building
Broken Link Building is one of my all-time favorite link building strategies.
Why?
Instead of straight-up begging for links, with Broken Link Building, you add value to someone's website.
The process of finding and fixing broken links is straightforward:
Define A Target Website
The first step is to define the website where you want to get a link from.
Finding The Broken Links
Once you have created the list of the websites you want to get a link from, you need to start searching for the broken links.
To do so, you can use two tools: Check My Links and Ahrefs.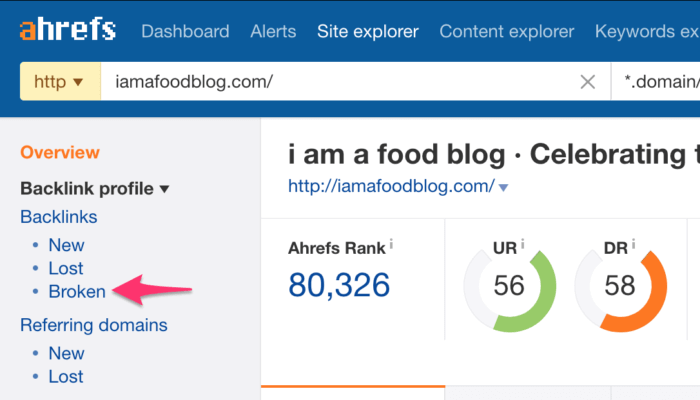 Email The Site Owner About Their Broken Link
Once you finished analyzing all the sites and pages, it's time to contact the blog owner or manager to let them know about the broken link.
Here's the script I recommend:
Subject: Problem with [Their Site's Name]
—
Hi [Name],
Are you still updating your site?
I was searching for content on [Topic] when I came across your excellent page: [Page Title or URL].
However, I noticed a few links didn't seem to be working:
[URLs of broken links]
Also, I recently published [Brief Content Pitch]. It may make a good replacement for the [Point Out a Specific Broken Link]
Either way, I hope this helped you out 🙂
Thanks,
[Your Name]
Send this template to every owner or manager you have found on every site on your list.
You'll be amazed at the types of responses you receive from people!
Your competitors probably spend thousands of dollars and hundreds of hours developing their link building strategies to and acquire high-quality links.
#3 Reverse Engineering Competitor Backlinks
If you have a small budget, why would you try to compete with those companies? You'd most likely fail to get the same quality of links your competitors get.
Instead of hitting your head against your wall in anger and decide to work harder, you should work smarter
The idea I'm suggesting is simple:
Spy on your competitors and get the links they get.
You want to know why your competitor got its links; your analysis will try to uncover just that.
Start by making a list of your competitors in the top 10 search results.

Ignore those that have few links as well as those that have a strong brand and get links exclusively due to their fame.

In Ahrefs, go to the Site Explorer, add your competitor, and once you have the results, click on the link that says Backlinks.

There, click on the Link type button, and export the whole list of URLs you get.

With this list, you want to open each link and figure out how and why they got the link.
#4 Newsjacking
Its no secret that content is the key that unlocks amazing backlinks.
One of the key elements of any effective link building campaign is creating great content that stands out and commands attention.
Creating content that has a higher likelihood of going viral, however, isn't easy.
But here's the deal:
Simply publishing content isn't going to land you any links.
As it turns out, certain types of content work best for link building.
Visual Assets
What It Is?
Visual assets are:
Images

Diagrams

Infographics

Charts and other visual-oriented pieces of content
Find Popular Topics
Research what people talk about with the help of Google Trends.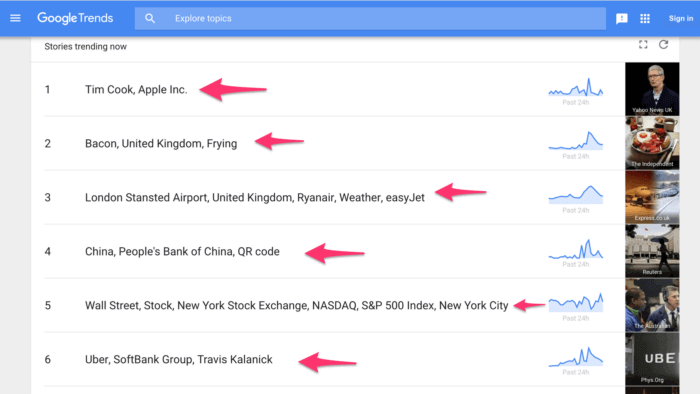 You can put your own ideas in the top search bar and see their popularity, or write down the list of topics that show up on the homepage.
Select the category closer to your industry.
With the results, brainstorm potential ideas that tie your expertise with the news.
Create the content fast, and aggressively promote it.
#5 Influencer Marketing (ego bait)
Dale Carnegie said once "You can make more friends in two months by becoming interested in other people than you can in two years by trying to get other people interested in you."
When you mention a popular influencer in your post, you get more links.
Why? Because the influencer that you mentioned will most likely share it (if it's good). And that will result in more links.
Mentioning influencers is a wonderful way to get their attention and give them praise, while at the same time gaining links for yourself.
#6 Data Driven Content For Link Building
Creating content that drives attention has become harder and harder as time goes by.
To create relevant and useful content, it needs to stand out.
Using unique data to develop and enrich your content can help it stand out, command the attention it deserves, and attract the link your website needs.
People like knowing why something is true; if you state a fact without backing it up, it will be hard for you to be taken seriously.
To get started, here are a few ideas you can implement to make your content more data-driven:
Do an in-depth research on your industry

Find unique data and use it on your content

Survey your email list subscribers, industry peers, or customers

Create attractive and unique graphics from your own or someone else's data
#7 Reddit Link Building
Reddit is an extraordinarily valuable as it is quite old website with lots of links. Reddit is an amazing source for potential clients. You just need to make sure that you choose the right subreddit and post your content.

Initially the reddit links are "nofollow" once you get some upvotes those links become "dofollow". According to some third party statistics reddit has daily views in crore. It drives traffic more than any other modern social media sites.
Submit your content carefully by choosing perfect subreddit category.
#8 Mention Link Building (Link Reclamation)
Link reclamation is one of the easiest link building techniques there is.
You are basically getting links from people who already like you, so your pitching will be more effective than usual.
To get started, look for mentions your company or site has gotten via Google.

Whenever you find a mention without a link, contact the site owner asking for a link with my template.

Finally, set up alerts with the help of Google Alerts to make sure never to miss any future mentions.
This is a quick win link building strategy that nearly anyone can apply instantly!
#9 Content Syndication
First, a quick definition: Content syndication is a method of republishing content on other sites in order to reach a broader audience. Syndicated content not only increases your reach and brand awareness, it also builds links and can help drive more traffic to your original article.
Content syndication is probably the most overlooked yet powerful link building tactic there is.
The hardest part is creating an amazing piece of content that gets shares, traffic, and links.

In the meantime, search for sites that accept guest posts and syndicated content.

Contact these sites letting them know about your successful piece of content.
Most likely, they will be motivated by the great results you've gotten to republish it, giving you more links and traffic.
#10 Local Citations
Local SEO link building is often overlooked when doing national or global SEO campaigns – but it's a great way to go after some links your competitors might be ignoring.
Doing link building for local companies is similar but not the same as doing it for an international business.
While getting links is the key element to rank a site (whether that's an e-commerce store, a blog, or a software website), local sites need citations.
Citations are what makes Local SEO so different.
The more citations you get, the higher you'll rank your local site.
Citations are any online mention of the name, address, and phone number (also known as NAP) for a local business – but you'll also be getting some great backlinks at the same time.
The best way to get them is to add your website to local directories.
To give you one simple example of the power of citations for local sites and how they work:
To create citations cheaply and on scale, follow the advice I laid out:
Start by opening up a Whitespark account.

Make a list of your most important keywords and add it to the tool.

Once you get the results, you will have a long list of local directories and sites where you can add your company.

Instead of creating each citation manually, get a cheap VA from Upwork, Fiverr, or PeoplePerHour, and make them do it themselves.
In a few weeks, you will be able to create dozens, if not hundreds, of cheap citations.
---
---
Your email address will not be published. Required fields are marked *